Effortless Entertaining
We love long lunches with family and friends but creating a cohesive setting can be time-consuming. Make entertaining a breeze and elevate home cooking with our range of plates, bowls & serving pieces
All our pieces are dishwasher safe so once lunch rolls into afternoon drinks, everything can go straight in the dishwasher so you can spend more time catching up with loved ones!
Salt Dish & Dip Bowl
The smallest pieces in our collection, the Salt Dish and Dip Bowl will quickly become your entertaining go-to's. The Salt Dish is great for seasonings for the table while the Dip Bowl is ideal for anything from sauces to extra toppings to a small starter.
Breakfast & Dinner Bowls
While named for two important meals of the day, the Breakfast and Dinner Bowls are entertaining stars. We love to use them for everything 'side' related; side salads, baked veggies, rice dishes and so much more.
The Dinner Bowls are great for meals with shared pasta or rice dishes.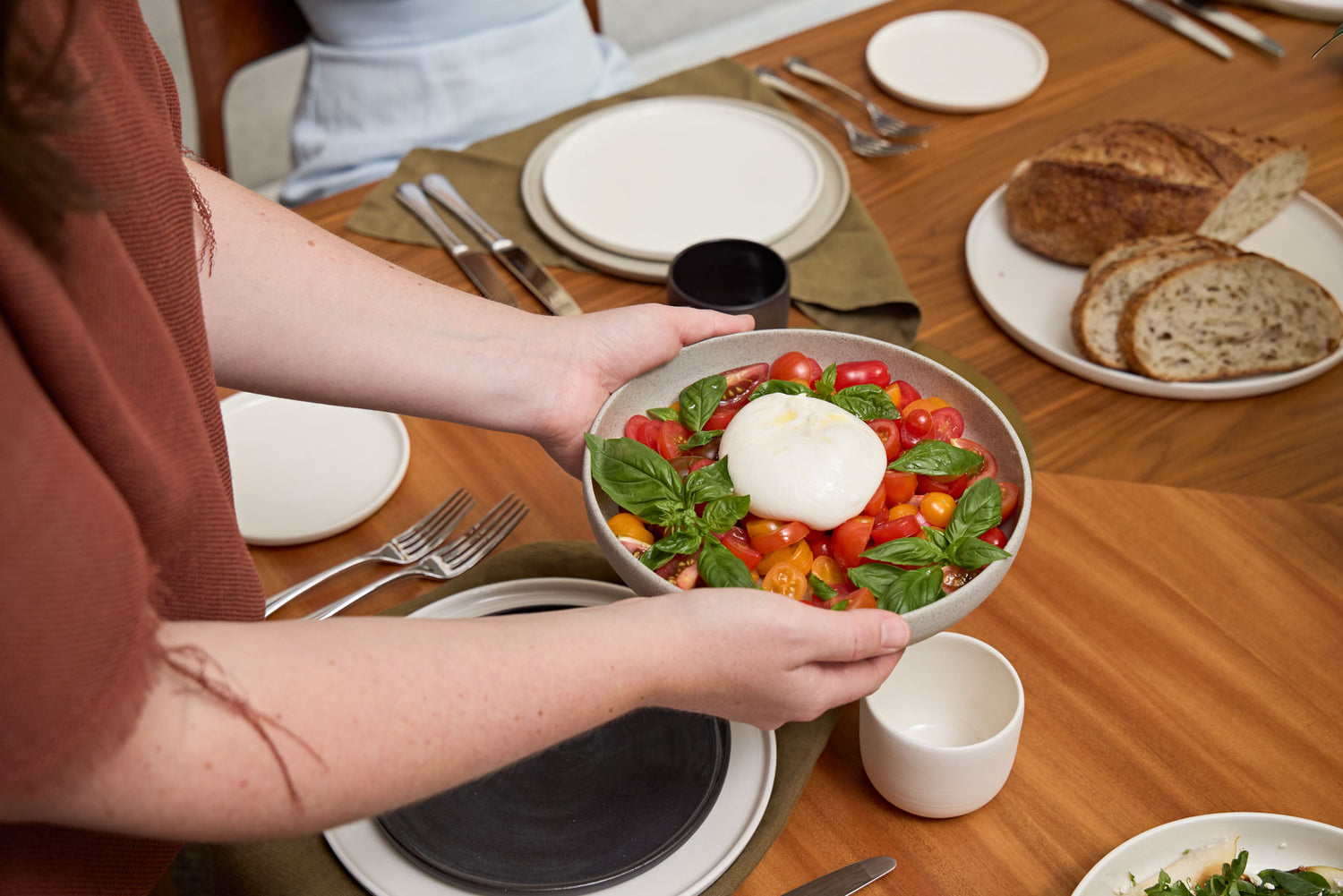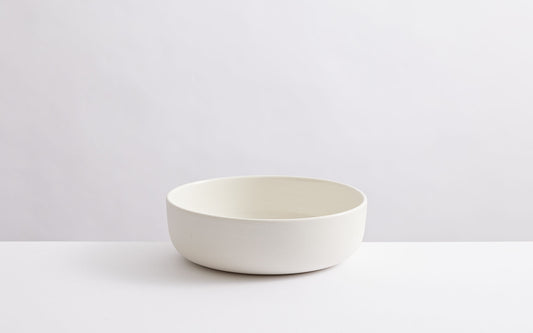 Regular price
Sale price
$85.00 AUD
Unit price
per
Salad Bowl & Platter
A generous Salad Bowl was a non-negotiable for the Elph Ceramics collection. We love using it for entertaining with larger groups. It holds a salad suitable for 6-8 people as a side or full to the brim of main dishes including curries, rice dishes or roast veggies. When it's not being used for entertaining, it makes a stunning fruit bowl.
We designed the Platter for evening drinks with family and friends. Filled with soft cheeses, biscuits and olives, it makes the least curated cheese board look like it's out of a magazine. It's also great for serving main dishes - from a Sunday Roast to simple crowd pleasers, like the Roast Carrots and Pumpkin Salads (find the recipes for both on our blog).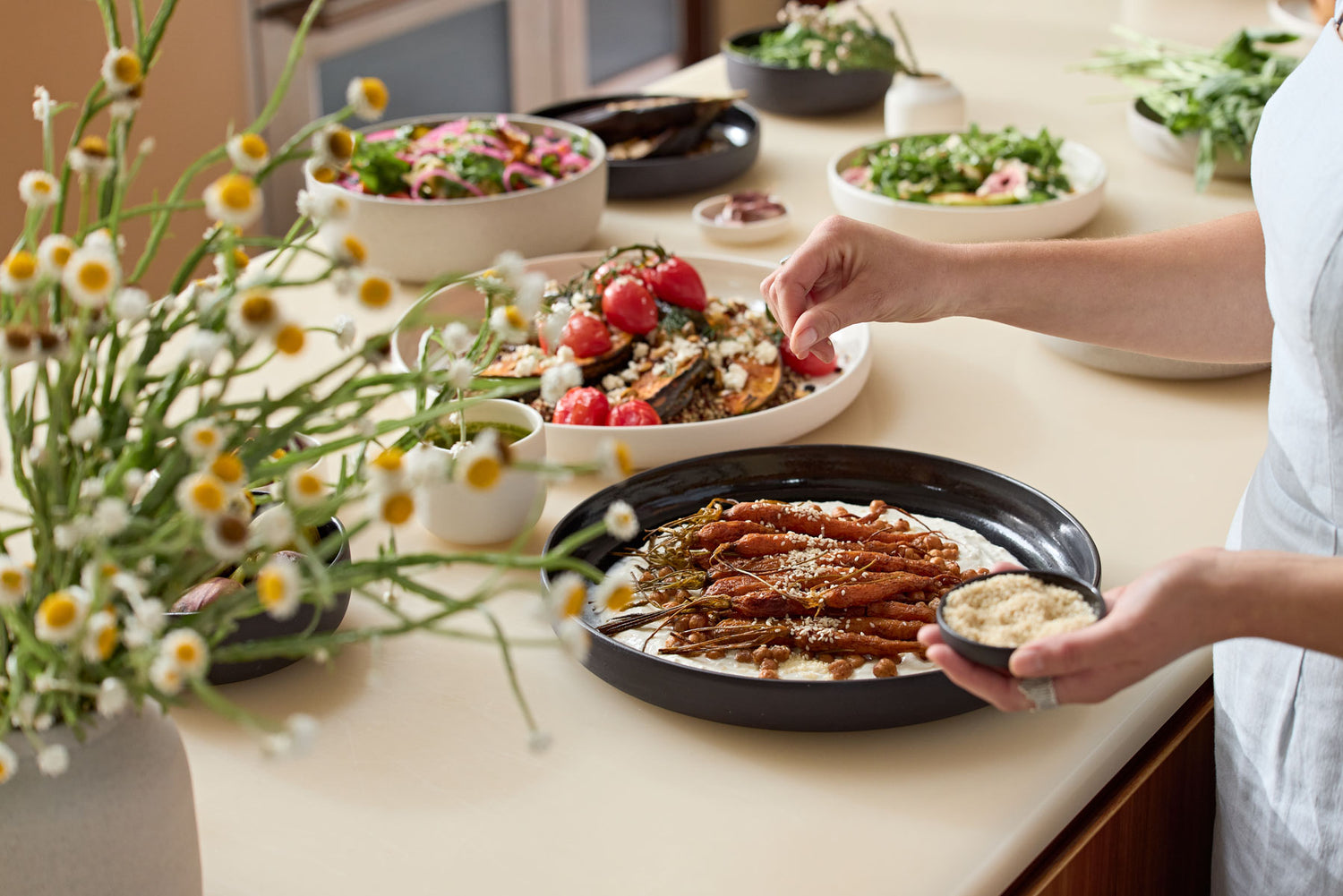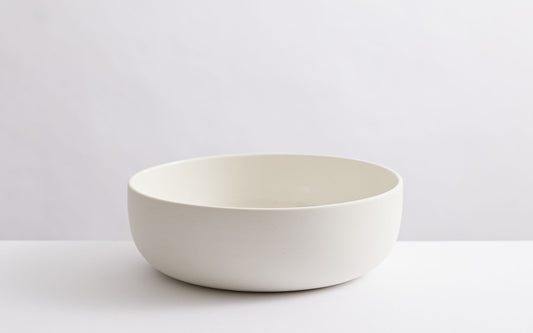 Regular price
$350.00 AUD
Regular price
Sale price
$350.00 AUD
Unit price
per
Entree & Dinner Plates
Our Entree and Dinner Plates are designed to be your everyday set as well as your entertaining set. Opt for a single colour or mix and match our three classic finishes.
The Entree plate is great for more than just entrees. We love to use it as a lunch plate or for pizza in front of the TV! The Dinner Plate is as stylish with special dishes as it is plated up with mid-week left overs.
Cake & Side Plate
The perfect pair for morning or afternoon tea. We are lucky to have many bakers in our team, including Naomi who whipped up this incredible Gluten Free tart (find the recipe here). The Cake Plate is designed to hold a standard cake size and the Side Dishes are the perfect size for a generous slice. All you need now is to find your perfect cup or mug!